Halloween is one of my very favorite holidays.  I love everything about it, from carving jack-o-lanterns to fun spooky costumes and decorations, to my annual watching of Ghostbusters while I munch candied apples on Halloween night.
This year though, I decided to do a little something fun and special. I put together a collection of all my favorite Halloween sex toys (and a few new ones I spotted this year!) from all around the internet. I hope you enjoy it, and have a safe and Happy Halloween!
Halloween Sex Toys of 2018 Highlights:
Haunted Halfling from Exotic Erotics
I think this *might* be my very favorite Halloween sex toy I have ever seen. Not only does the ghost glow, but the blue in the background is UV!  Exotic Erotics really outdid themselves this time, and I hope to see more intricate designs like this from them in the future.
Halloween Inspired Toys from Simply Elegant Glass
When it comes to colorful, elegant, and wildly creative glass toys, nobody does it better than Simply Elegant Glass (formerly Glass by Woozy). This year is no exception.
Frank's Monster by Lust Arts
For me, Frank's monster just perfectly threads the needle between spooky and cute. By far my favorite Frankenstein inspired dildo I have ever seen. Bravo Lust Arts!
Glow-in-the-Dark Zombie Plugs by Glow Fuck Yourself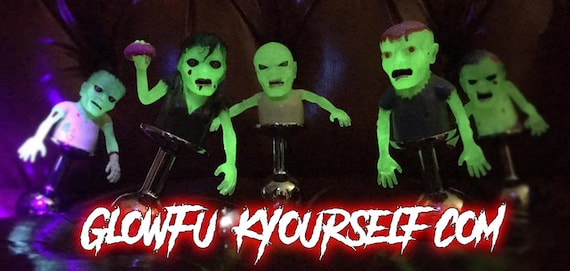 Ok, I will admit…I think zombies are probably the most terrifying monster out there. But these little plugs are just so novel and cute that I can't help but want one. Plus, they glow in the dark! Great work, Glow Fuck Yourself!
Faust Ceramic Dildo by Small Town Planet
Yes, this spooky demonic dildo comes complete with its own penis! It is named Faust, after the classic German legend of Faust, who sold his soul to the Devil.  Very cool ceramic work by Small Town Planet.
Cute Halloween Plugs by Love Crafters
I love these adorable little plugs from Love Crafters! The ghost makes me think of the home-made candy suckers that I used to get trick-or-treating sometimes when I was a kid. Also, that mischievous grin on the pumpkin's face is priceless!
Handpainted Realistic Zombie Dildo by Number One Laboratory
Not for the feint of heart! Number One Laboratory hand paints their toys to be very realistic, and this toy is no exception. Definitely the most spooky zombie dildo I have ever seen, hands down.
Halloweenies 2018 Indie Sex Toy Shop Collaboration
This year was extra special because 9 of my very favorite indie sex toy makers collaborated together to release toys this Halloween  (Including XenoCat Artifacts, Kudu Voodoo, Phoenix Flame Creations, A Krows Nest, New Folklore, Damn Average, Strange Bedfellas, Hodge Podge Entourage and Dread the Empire!).
You can see all of the toys in my Halloween thread here.
More Good Stuff!
I collected over 35 Halloween sex toys in my Twitter thread, and this is just a sampling of my very favorites overall.  If you want to see the thread in its entirety, check it out here:
To celebrate Halloween this year, I'm making a thread of all my favorite halloween-themed sex toys & where to find them. Feel free to ping me if you know of any I missed. Enjoy!

First up: lovely pumpkin, candy corn & werewolf toys by @ElegantGlass https://t.co/leU0G1w4gz pic.twitter.com/78oz0afEXY

— Curious Kitt (@Curious_Kitt) October 14, 2018